Last week the company I work for enforced mandatory work from home for the foreseeable future due to Coronavirus. I am very fortunate that my employer has allowed us to work from home to stay safe and healthy, especially since social distancing will slow down the rate of infection and prevent the healthcare system from being overwhelmed.
Prior to Coronavirus, there was already a pretty flexible remote work policy, so I'd work from about once a week. Since it was only a day per week, I didn't mind sitting on the floor and using my coffee table or lounging on my couch to do work. However, as soon as I knew I'd be working from home indefinitely, I knew it was time to have a proper desk set up so I could stay productive and also protect my body (I'm concerned about getting back or wrist pain from improper posture).
*Affiliate links below*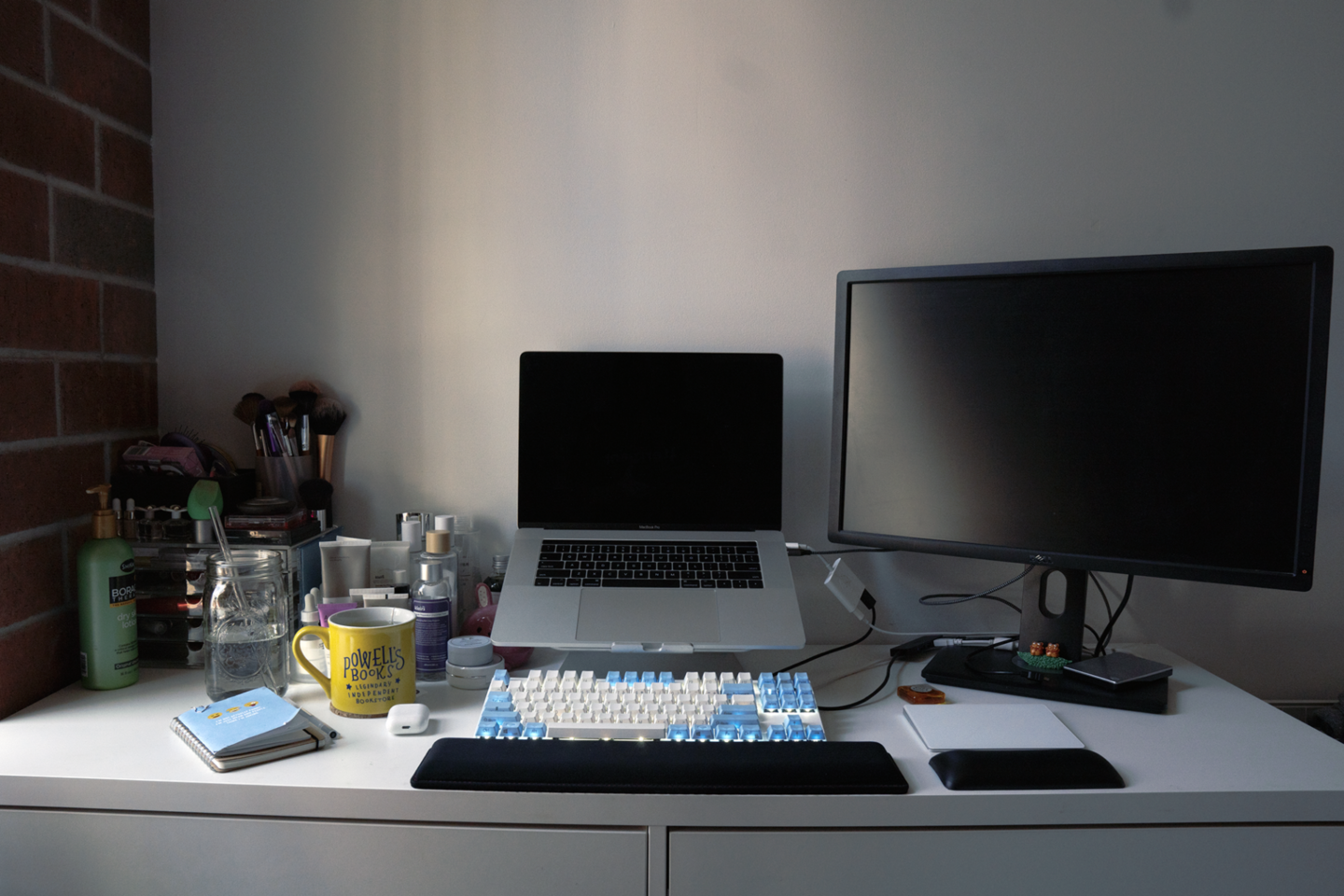 I brought home my laptop stand, touchpad, and dongle from work, but everything else I already owned. Fortunately, I received this monitor for free when a startup got acquired and didn't need the monitor anymore. All I needed was just to buy the proper cord to connect it to my work MacBook.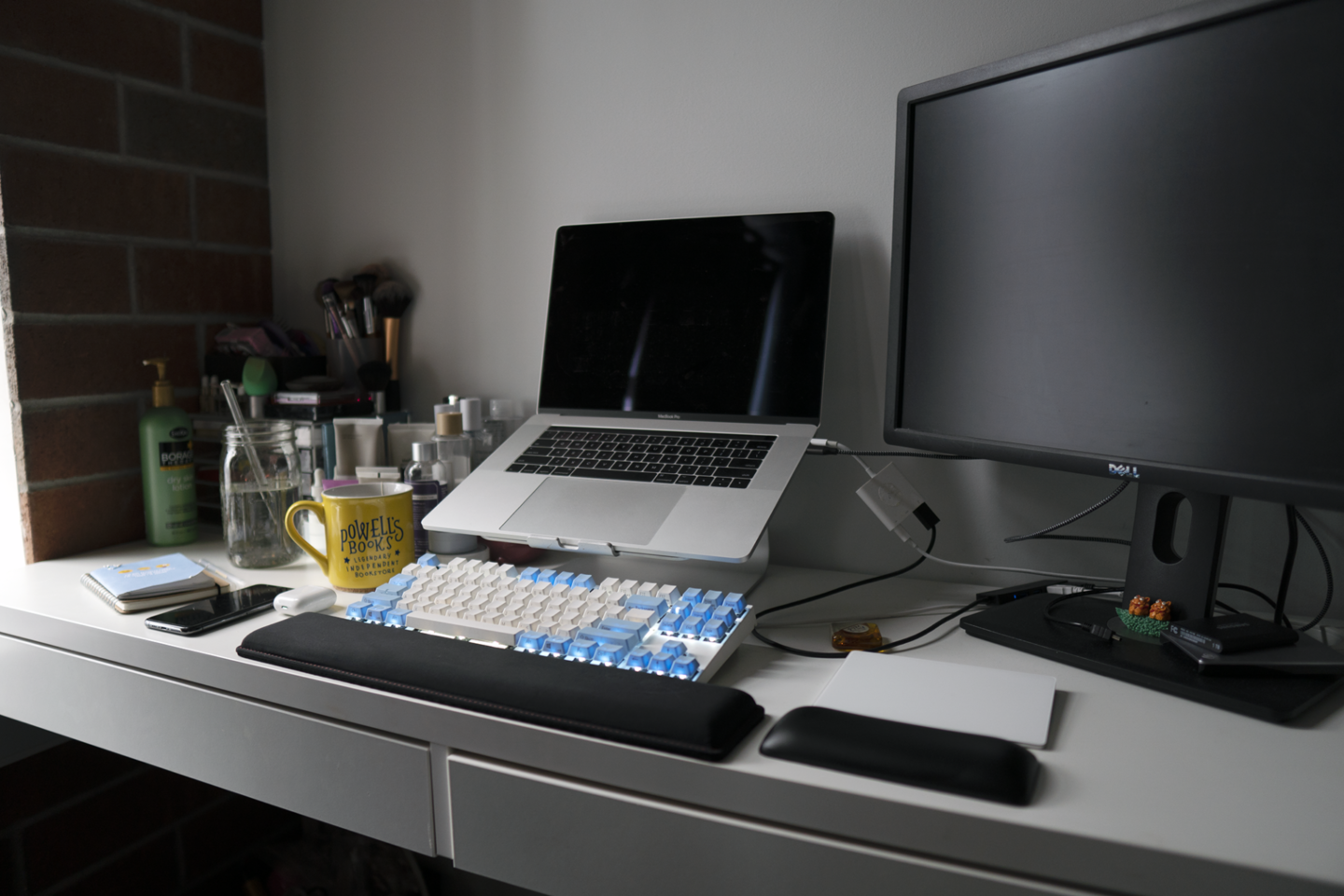 I've had this desk for a few years now, but mainly used it for applying skincare and makeup, which is why there's so much of it on my desk. The desk has two drawers where I stash my backup skincare stock and other miscellaneous things.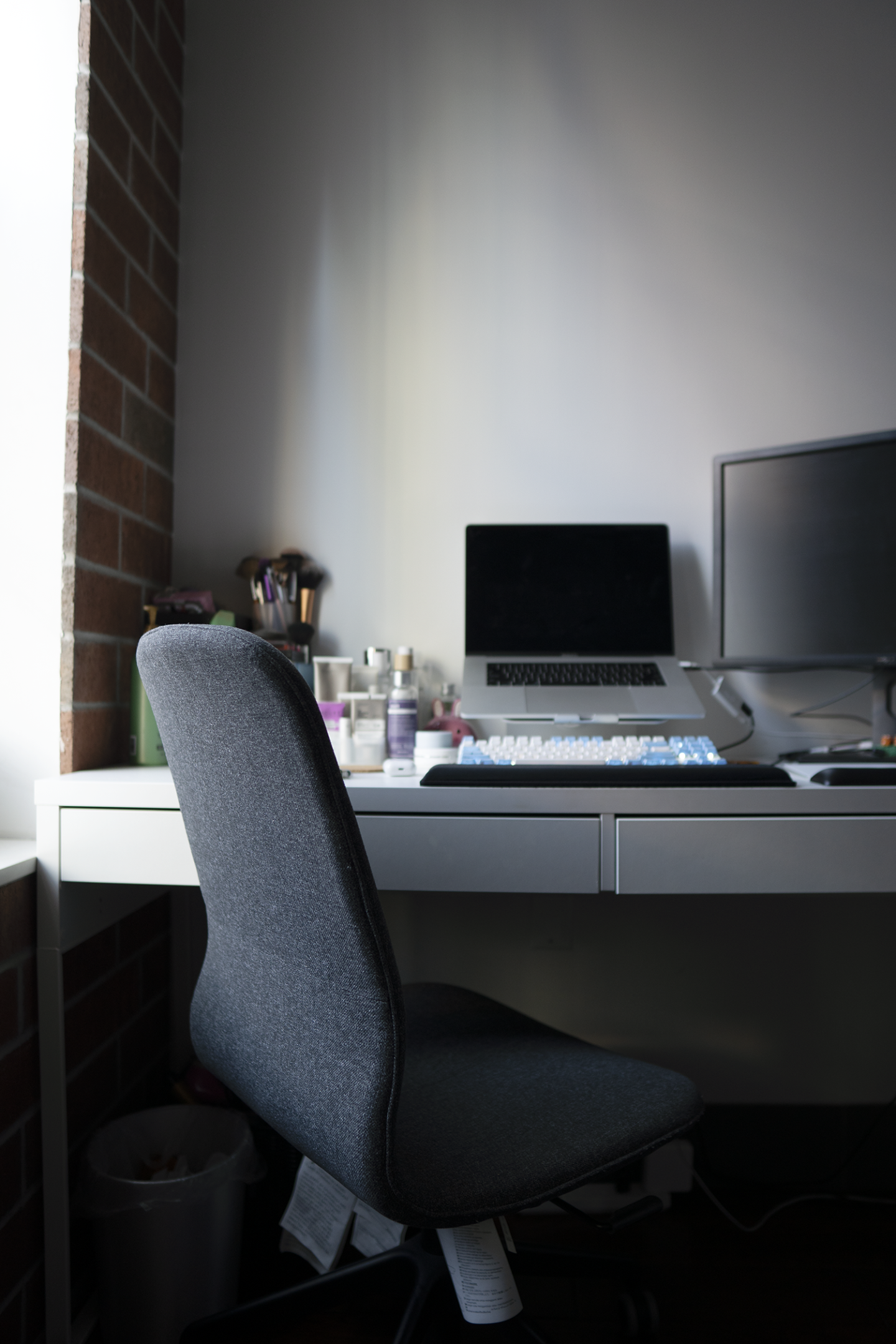 I bought this chair at the same time I bought my desk. It was kind of expensive considering it's from IKEA, but I love it because the shape of the chair provides great lower back support and it's really comfortable. It also comes with a 10-year warranty!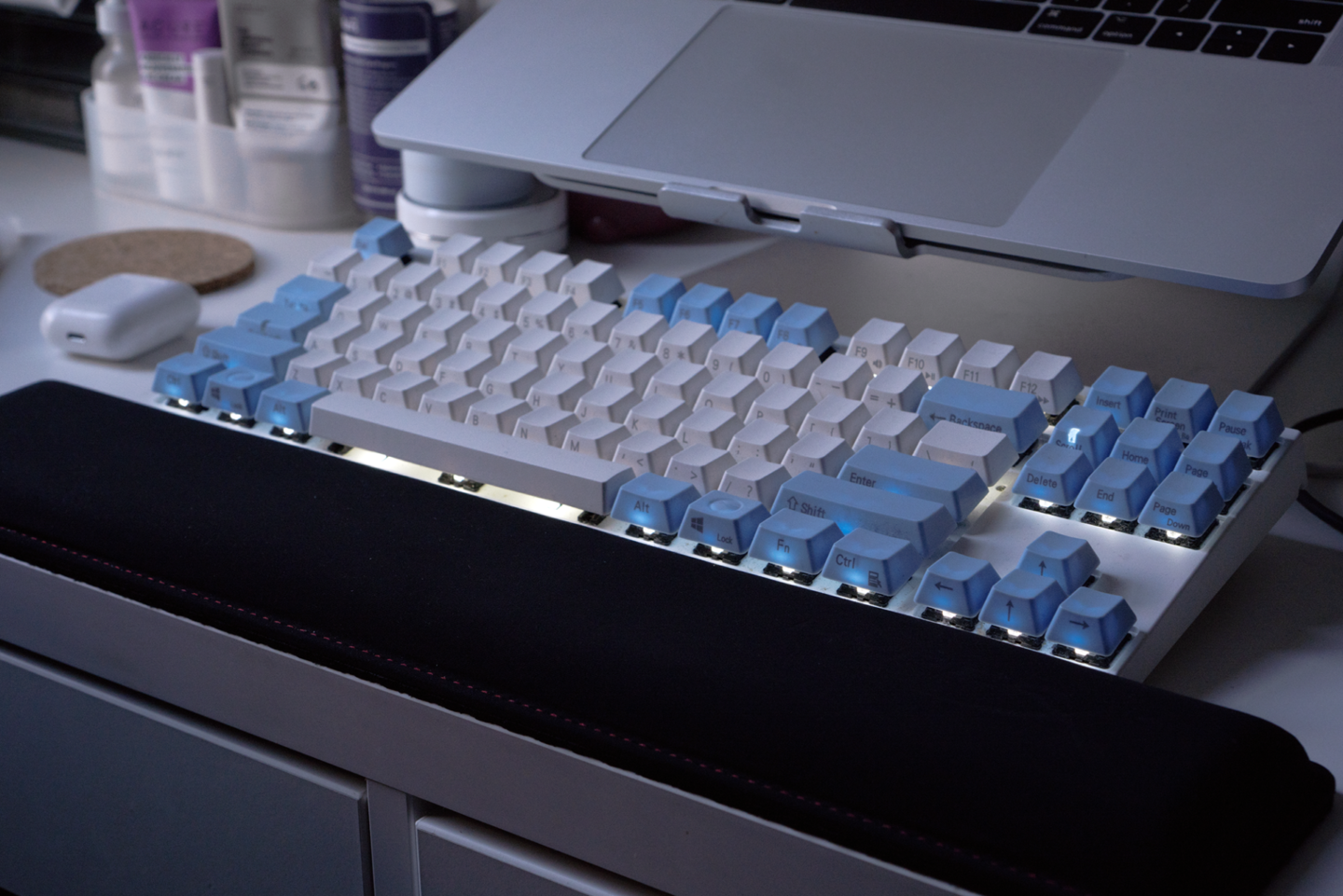 Ever since I made the switch to a mechanical keyboard a few years ago, I've never looked back! This is my favorite keyboard and it was a collaboration between Varmilo and Drop (formerly known as Massdrop). I'll like the keyboard here 1, but I'm not sure if they make this specific one anymore. I love how the key markings are on the front of the keys so they won't wear out as I type and also I am a huge fan of keyboards that light up. For anyone who's curious, the switches are Cherry Browns.
I got the keyboard wrist rest on Amazon. It's really sleek and well made! I had a different one prior to this but the fabric started coming off and the foam got deflated, so this one was a nice upgrade.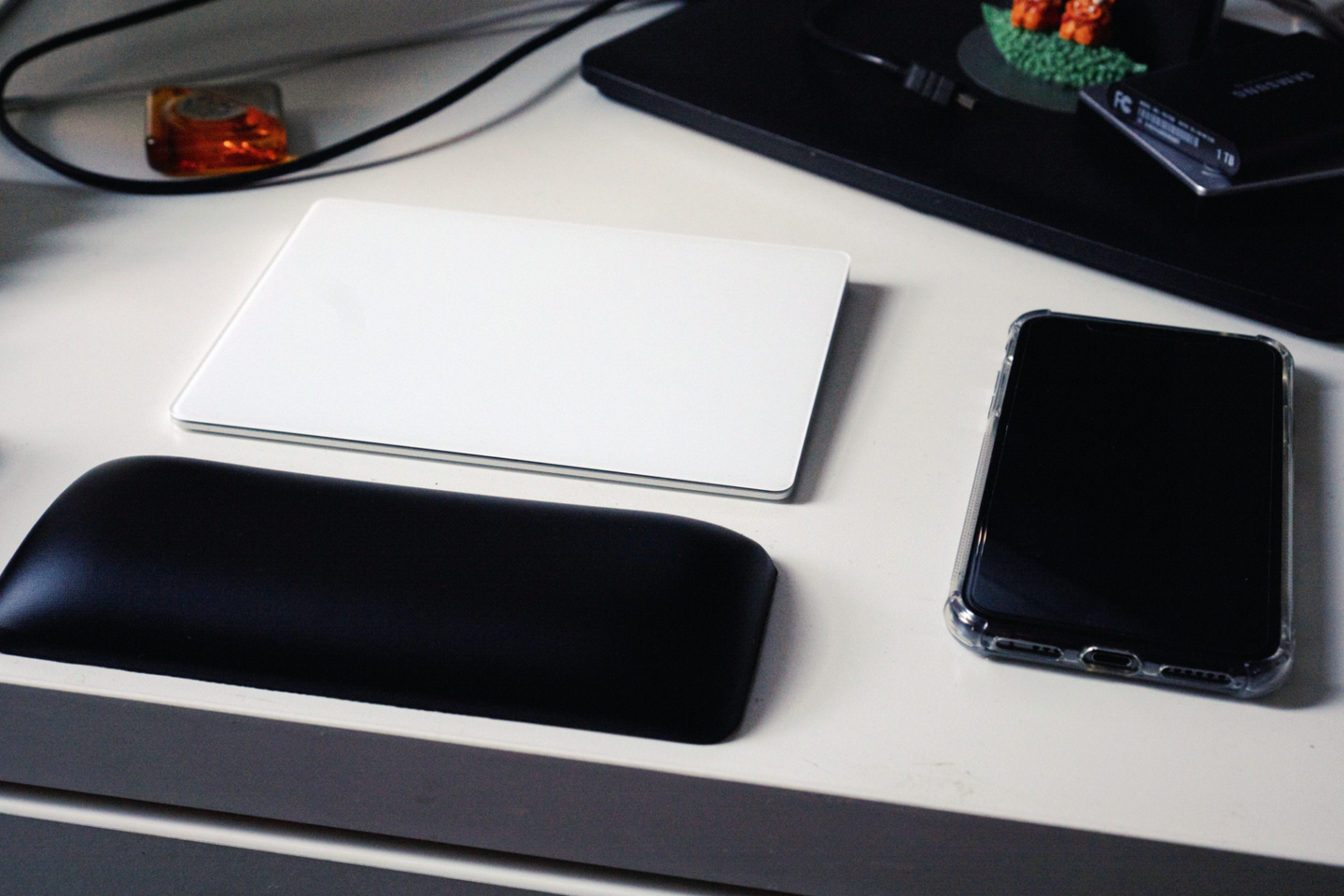 I just made the switch from the Apple Magic Mouse to the Apple Trackpad because I was experiencing wrist pain. I also picked up this mouse wrist rest from Amazon to keep my wrist elevated.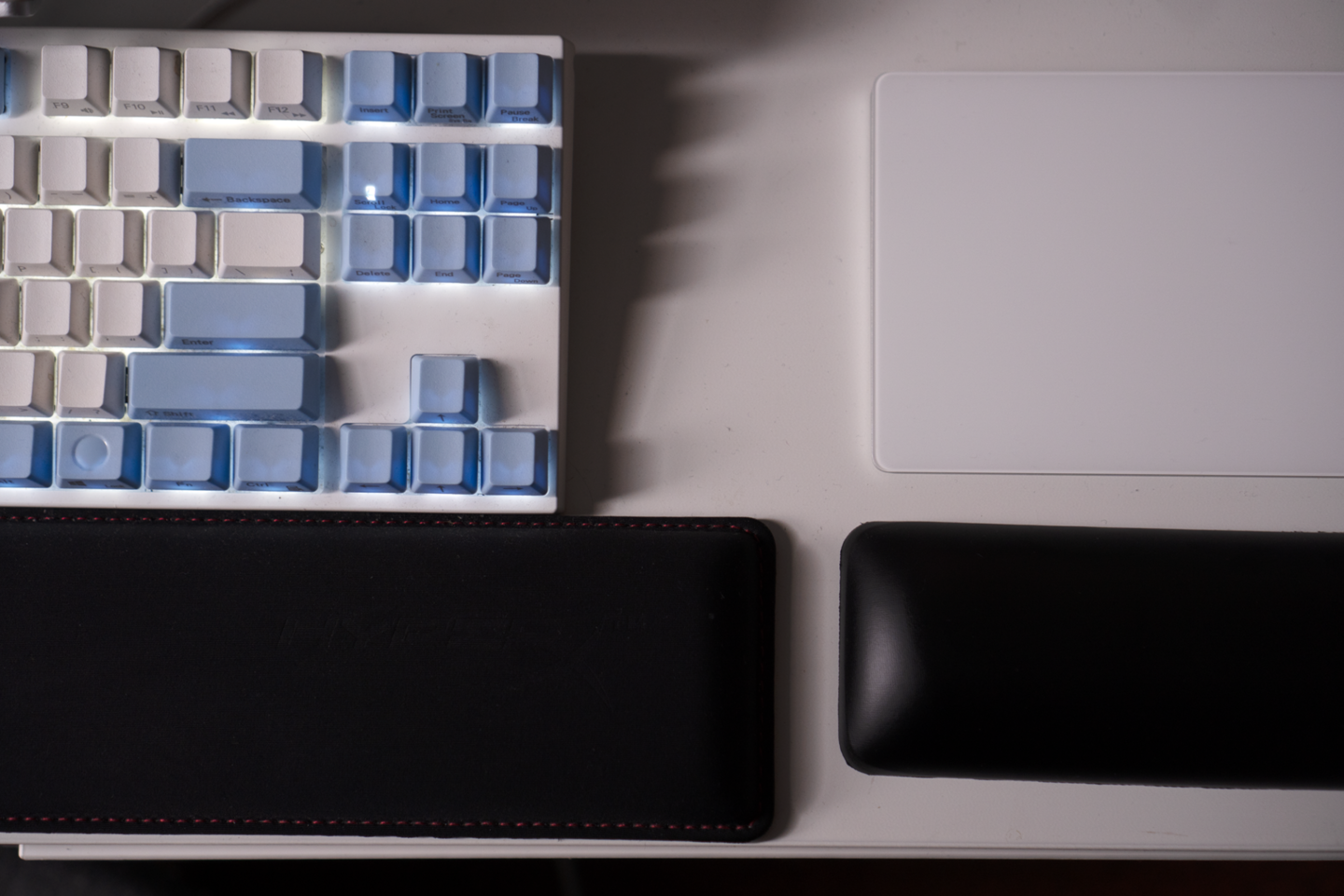 I wish the company that made the keyboard wrist rest also made a mouse version, but they don't, which is why I went with a different brand. I'm really happy with both of them, though!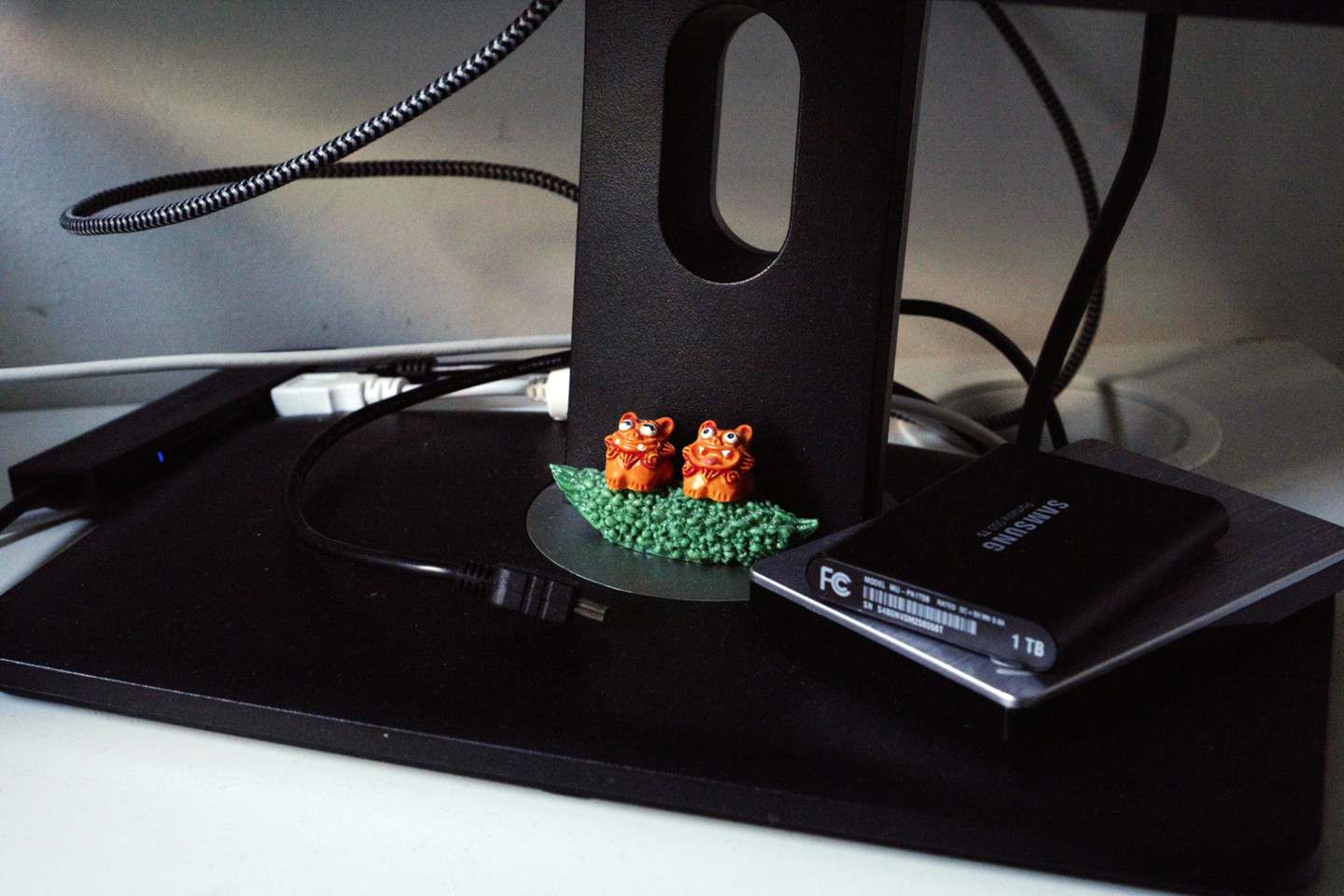 On my monitor, I have this mini Shisa statue on top of a bitter melon that I got in Okinawa years ago! It's my favorite souvenir that I have from Japan. Here, I also keep my external HDs and a USB hub that helps me connect a lot of things to my laptop.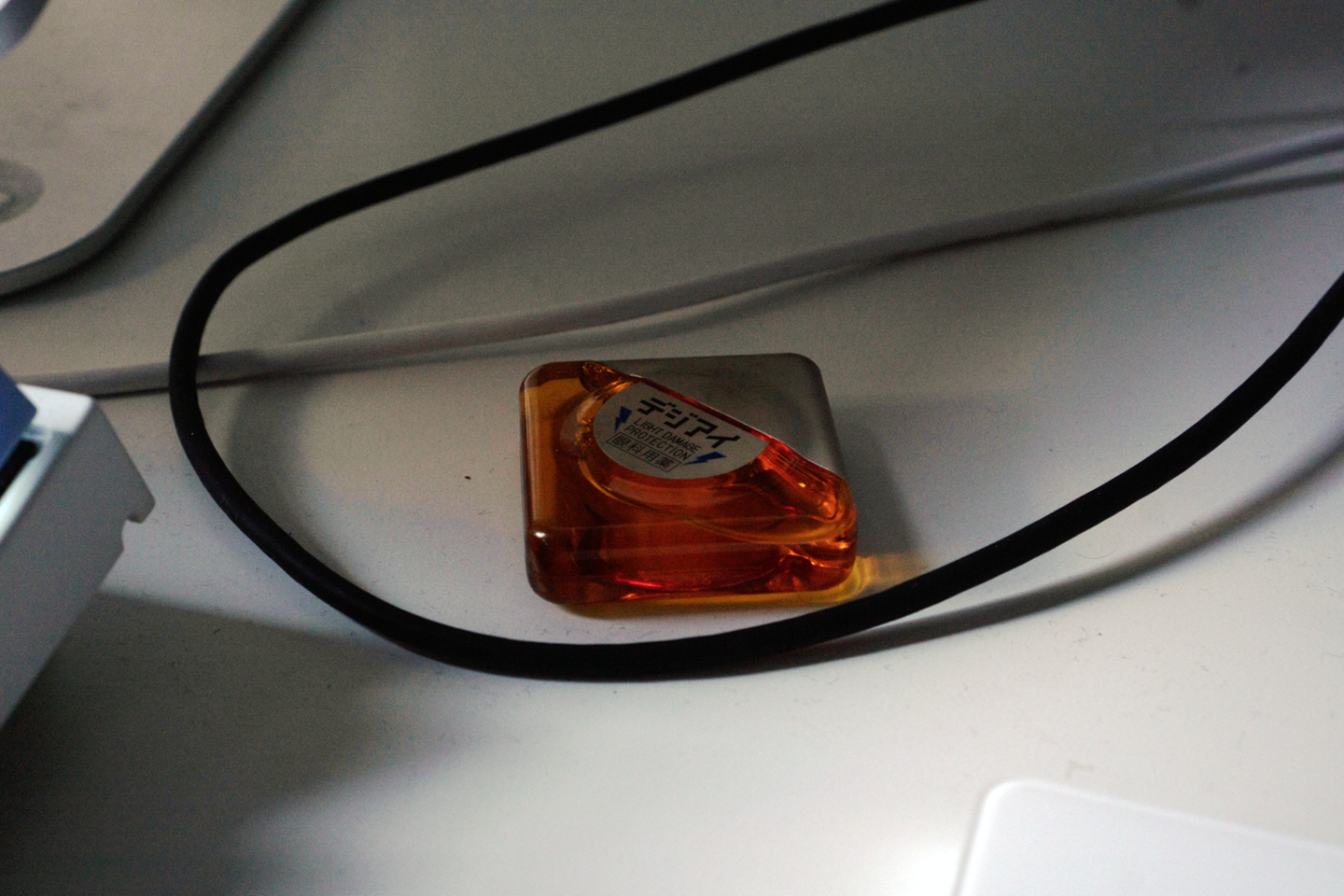 I bought this "blue light" eyedrops last time I was in Japan. Supposedly it's supposed to help with the blue light from screens. I'm not sure if it works or not, but it couldn't hurt since I feel like my vision is seriously suffering from how much I stare at a screen and anything would help.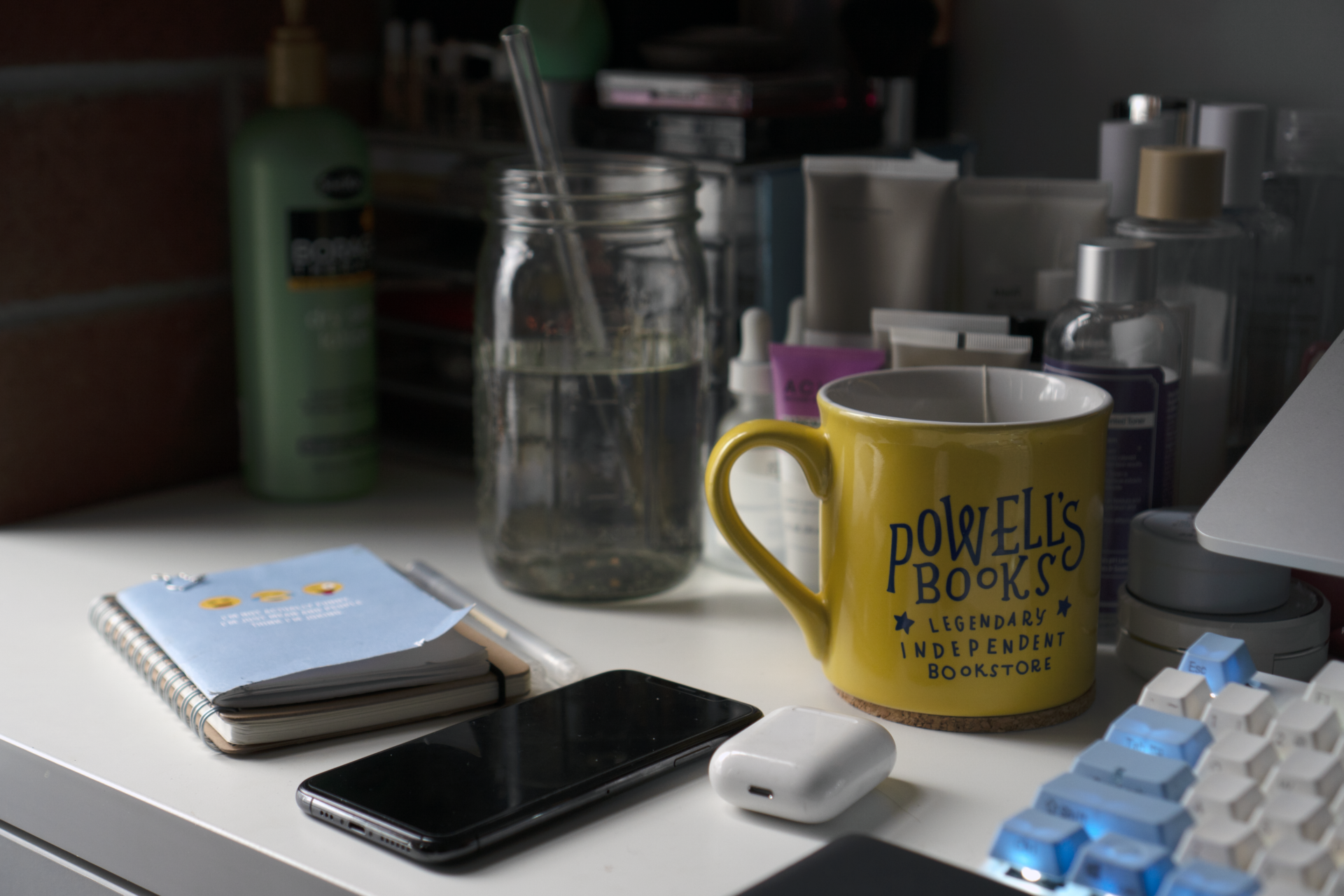 To the left of my Macbook, I have a mug of tea for my daily dose of caffeine (normally green tea), and a large mason jar of water. I've noticed it's easier for me to mindlessly drink water when I'm drinking with a straw. I also have my airpods that I use when I need to hop on a work conference call and a few notebooks for me to write down reminders.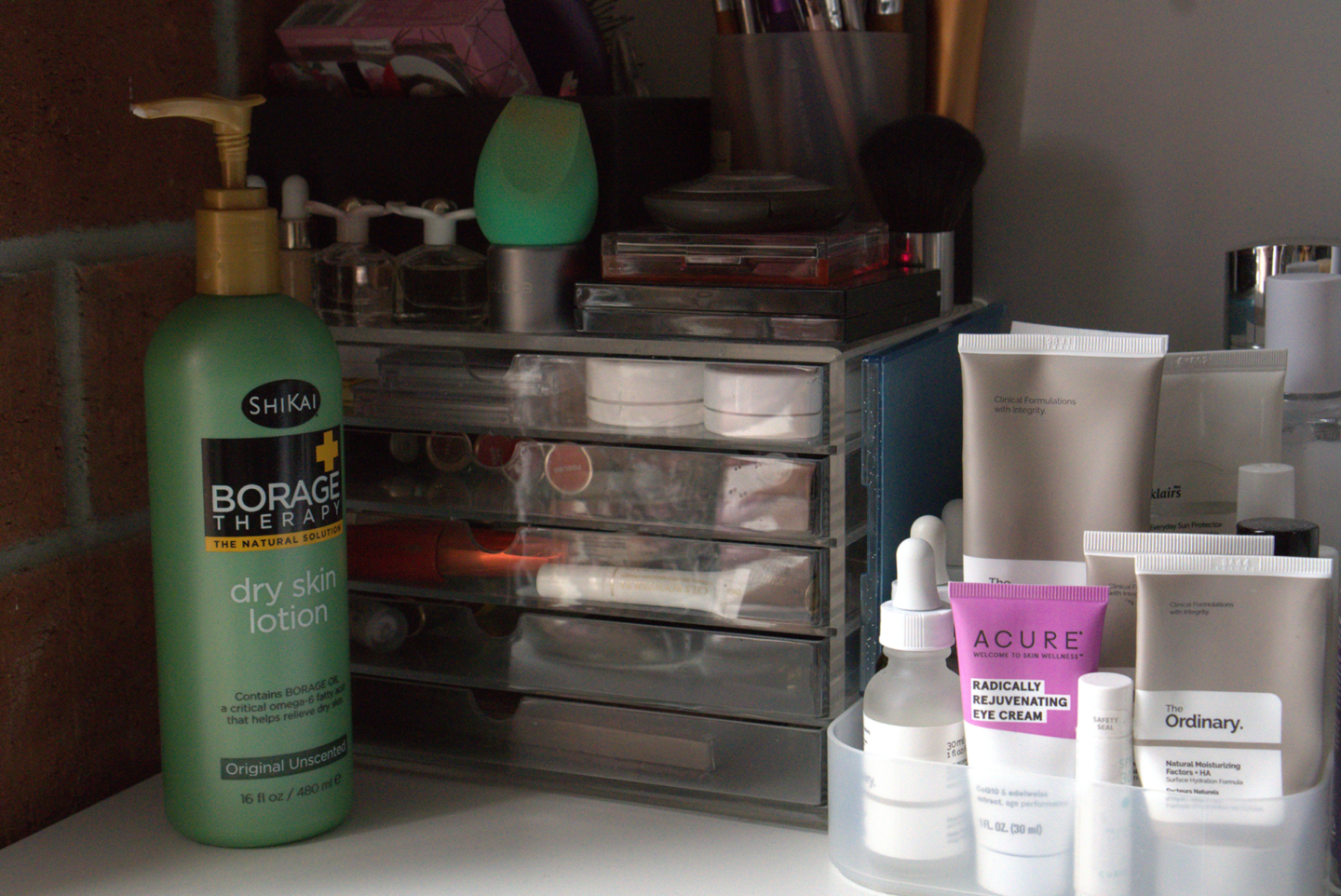 Here's a more in-depth look at my makeup and skincare corner! I always keep some kind of lotion here since I have eczema on my hands and with the extra hand-washing recently, my hands are often dried out. I definitely have way too much makeup and skincare, so I've been on a shopping ban for those items until I run out.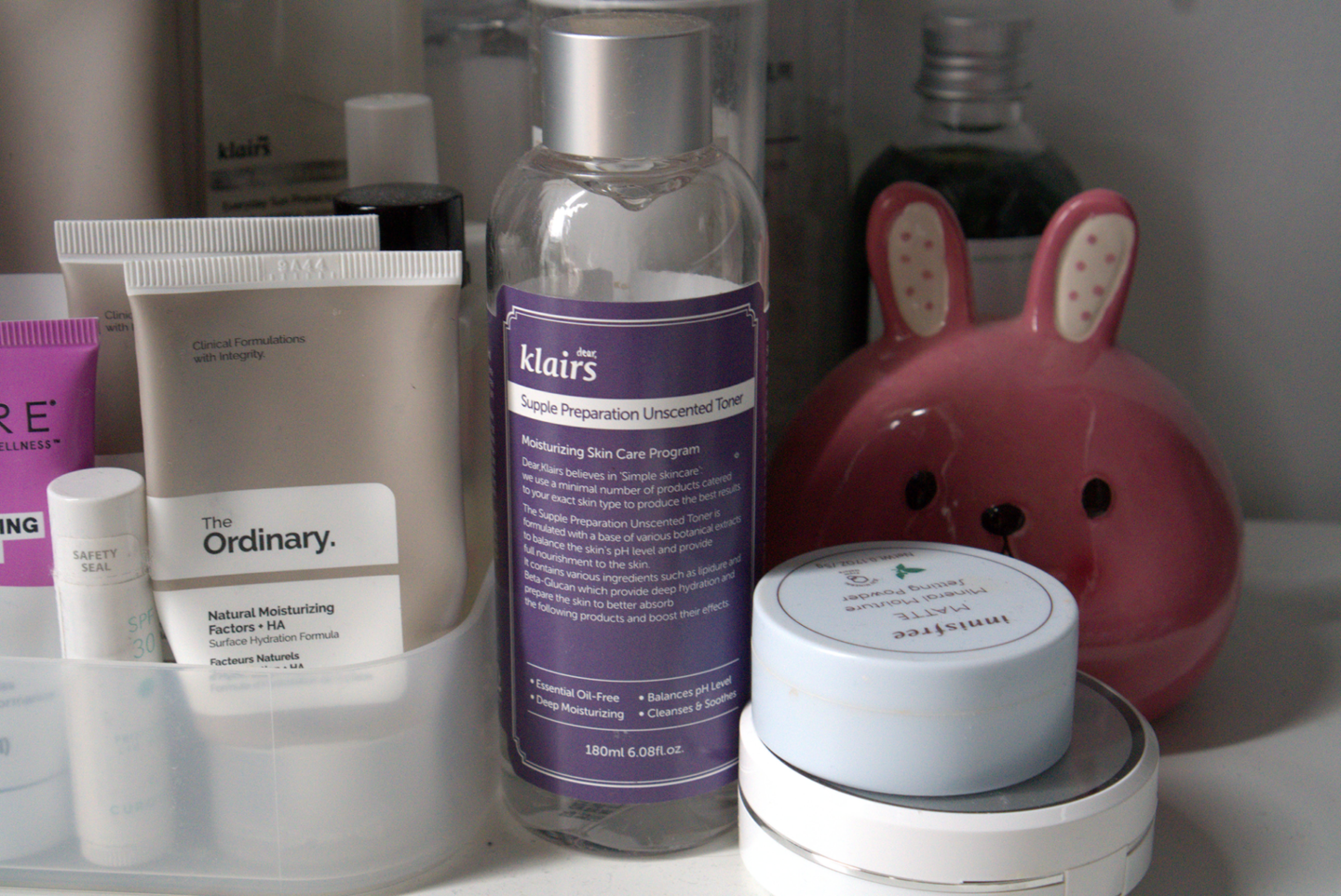 A few more skincare and makeup items as well as my favorite piggy bank from Daiso!
That wraps up my WFH setup! Here's a list of everything that was mentioned:
Has your company let you work from home yet? What's your work from home setup like?
—
*This post is not sponsored, but it does contain affiliate links which may generate a small commission for me. For more information, view my disclosure policy.